Zombie Jake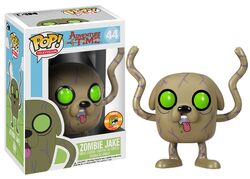 Zombie Jake is number 44 in Pop! Television. He is from the Adventure Time franchise. He is a SDCC 2013 exclusive
Background
Edit
Jake or known as Jake the Dog goes on adventures throughout the land of Ooo with his adopted brother, Finn. Jake has the ability to stretch and shapeshift his body limbs into a immense length he gained. He can grow into a giant and shrink for example. He is married to Lady Rainicorn and has serval kids with her.
Zombie Jake is a zombie version of Jake that makes its debut appearance in the episode "From Bad to Worse," when Jake is bit by Candy Zombies. After turning into a zombie, he bites Lady Rainicorn, and proceeds with trying to bite Finn. Zombie Jake is the first to be cured by Princess Bubblegum's rat Science's Decorpsinator Serum, but quickly turns back into a zombie after the other Candy Zombies realize that Jake was no longer a zombie.
The Adventure Time Pop!s are labeled as Pop! Television because Pop! Animation didn't start until 2014. Back then, animated shows were classified as television and put in the Television category.
On the front of the box, the art for Zombie Jake is different to the art on the sides. Zombie Jake's arms are not in the air so they will not cover the box.