Wage (Black Colorway GITD)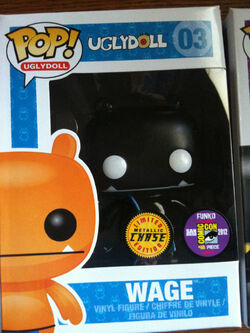 Information
| | |
| --- | --- |
| | Pop! Uglydoll |
| Number in Line | 03 |
| Series | Uglydoll |
| Year Released | 2012 |

Wage is number 3 in Pop! Uglydoll. He is from the Uglydoll franchise. This variant is a Black "Colorway" variant of Black "Colorway" Wage. Wage. It is also a "GITD" variant of It is a Chase figure. He is a SDCC 2012 exclusive.
Background
Edit
Wage is a hard worker who works at the local Super Mart. He wants to serve his customers the best he can do. The rest of the Super Mart workers do not notice him working there, but Wage doesn't mind. He likes to put things in bags, especially snacks. His best friend is Babo but he wants to make more friends. Wage and Bobo like to make friends with fire hydrants, phone booths and other creatures. Wage hates for anyone to be lonely. He always smiles on the inside and the outside. He likes to go grocery shopping and adventures with other people.
Black "Colorway GITD" Wage was released as a SDCC 2012 exclusive.
Ad blocker interference detected!
Wikia is a free-to-use site that makes money from advertising. We have a modified experience for viewers using ad blockers

Wikia is not accessible if you've made further modifications. Remove the custom ad blocker rule(s) and the page will load as expected.