Tyrion Lannister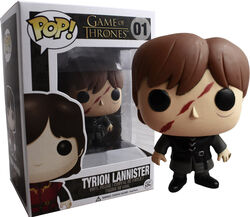 Tyrion Lannister is number 1 in Pop! Game of Thrones. He is from the Game of Thrones franchise. This variant is a Popcultcha exclusive.  
Background
Edit
Tyrion Lannister is the youngest child of Lord Tywin Lannister and younger brother of Cersei and Jaime Lannister. A dwarf, he uses his wit and intellect to overcome the prejudice he faces.[1]
"Popcultcha" Tyrion Lannister was released as a Popcultcha exclusive in 2012.
References 
Edit