The Hound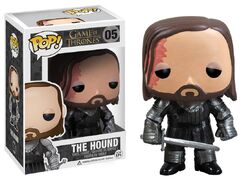 The Hound is number 5 in Pop! Game of Thrones. He is from the Game of Thrones franchise. 
Background
Edit
Sandor Clegane is a skilled warrior in the service of House Lannister, known primarily for the horrible facial scarring he bears on the right side of his face and for his fierce demeanor and lack of chivalry.[1]
The Game of Thrones Wave 1 Pop!s released in 2012. The Hound was released along with Tyrion Lannister, Ned Stark, Daenerys Targaryen, Khal Drogo, and White Walker.
References 
Edit
Ad blocker interference detected!
Wikia is a free-to-use site that makes money from advertising. We have a modified experience for viewers using ad blockers

Wikia is not accessible if you've made further modifications. Remove the custom ad blocker rule(s) and the page will load as expected.