Tails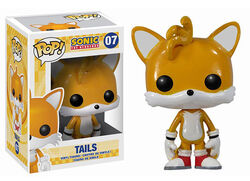 Information
| | |
| --- | --- |
| | Pop! Games |
| Number in Line | 7 |
| Series | Sonic the Hedgehog |
| Year Released | 2013 |

Tails is number 7 in Pop! Games. He is from the Sonic The Hedgehog franchise.
Background
Edit
Tails (or Miles Prower) is a anthropomorphic fox born with two tails. Because of that, many kids bullied him when he was little. One day, he met Sonic and joined him on his many adventures across islands ever since that day. He became Sonic's best friend and sidekick. Tails can use his two tails to fly by rotating them like a helicopter pilot. He is a mechanic and a pilot. Tails thinks of Sonic as a role model and wants to grow up to become a hero just like him.
Ad blocker interference detected!
Wikia is a free-to-use site that makes money from advertising. We have a modified experience for viewers using ad blockers

Wikia is not accessible if you've made further modifications. Remove the custom ad blocker rule(s) and the page will load as expected.