Rubeus Hagrid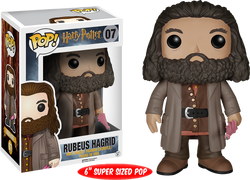 Rubeus Hagrid is number 7 in Pop! Harry Potter. He is from the Harry Potter franchise.
Background
Edit
Professor Rubeus Hagrid (b. 6 December, 1928) was a half-giant wizard, son of Mr Hagrid and the giantess Fridwulfa, and elder half-brother of the giant Grawp. Hagrid attended Hogwarts School of Witchcraft and Wizardry 1940 and was sorted into Gryffindor house. In Hagrid's third year, he was framed by Tom Riddle for the crime of opening the Chamber of Secrets and using his pet Acromantula to attack several Muggle-born students and eventually kill one of them. Though Hagrid's wand was snapped and he was expelled, he was trained as gamekeeper of Hogwarts and allowed to live on the school grounds at the request of Albus Dumbledore. In 1991, Hagrid was given the task of reintroducing Harry Potter to the wizarding world. In 1993, Hagrid would assume the post of Care of Magical Creatures professor after the retirement of Professor Silvanus Kettleburn. As a member of both the original and the re-instated Order of the Phoenix, Hagrid fought in several battles of the First and the Second Wizarding Wars, including the Battle of Hogwarts in 1998. By 2017, he was still living, and presumably still teaching and tending to his gamekeeping duties at Hogwarts.
Refrences
Edit
http://www.ign.com/articles/2015/02/15/harry-potter-funko-pop-figures-are-coming
Ad blocker interference detected!
Wikia is a free-to-use site that makes money from advertising. We have a modified experience for viewers using ad blockers

Wikia is not accessible if you've made further modifications. Remove the custom ad blocker rule(s) and the page will load as expected.