Robb Stark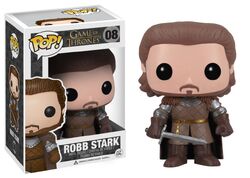 Robb Stark is number 8 in Pop! Game of Thrones. He is from the Game of Thrones franchise. 
Background
Edit
Robb is the eldest child of Lady Catelyn and Lord Eddard Stark. Eddard is the head of House Stark, Lord of Winterfell and Lord Paramount of the North, one of the constituent regions of the Seven Kingdoms. The Starks rule the region from their seat of Winterfell. Eddard is also the Warden of the North to King Robert Baratheon.[1]
The Game of Thrones Wave 2 Pop!s released in 2013. Robb Stark was released along with Jon Snow, Arya Stark, Jamie Lannister, Cersei Lannister, Renly Baratheon and Brienne of Tarth.
References 
Edit