Rick Grimes (Blood Splattered)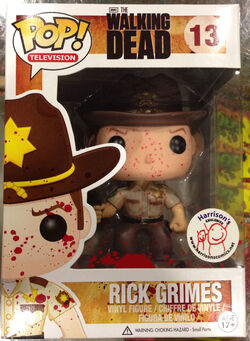 Information
| | |
| --- | --- |
| | Pop! Television |
| Number in Line | 13 |
| Series | The Walking Dead |
| Year Released | 2012 |

Rick Grimes is number 13 in Pop! Television. He is from The Walking Dead franchise. This variant is a "Blood Splattered" version of Rick Grimes. This variant is a Harrison's Comics exclusive.
Background
Edit
Rick Grimes is a sheriff's deputy in a small town. His wife is Lori Grimes and his son is Carl Grimes. After a gun shot wound, he wakes up from a coma realizing that zombies have taken over the world. He fights for survival as the zombie threat continues to spread.
"Blood Splattered" Rick Grimes was released as a exclusive to Harrison's Comics stores in 2012.
References
Edit
Ad blocker interference detected!
Wikia is a free-to-use site that makes money from advertising. We have a modified experience for viewers using ad blockers

Wikia is not accessible if you've made further modifications. Remove the custom ad blocker rule(s) and the page will load as expected.