Rick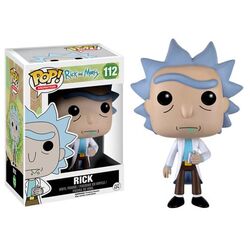 Information
| | |
| --- | --- |
| | Pop! Animation |
| Number in Line | 112 |
| Series | Rick and Morty |
| Year Released | 2016 |

Rick is number 112 in Pop! Animation and the first Rick and Morty Pop. He is from the Rick and Morty franchise.
Background
Edit
Rick Sanchez is a eccentric mad scientist who is also a alcoholic. He is the father of Beth, and the grandfather of Morty and Summer. His irresponsible behavior lead Beth and her husband, Jerry to worry about Morty's safety. Rick frequently burps when he speaks in the show.
The Funko blog announced the first Rick and Morty Pop!s on May 19, 2016. The first wave released in July 2016.
References
Edit
https://funko.com/blogs/news/126028867-coming-soon-rick-and-morty
He is loosely based on Dr. Emmet Brown from Back to the Future as the pilot episode of Rick and Morty was a Back to the Future parody.