Renly Baratheon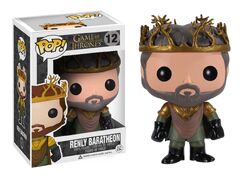 Renly Baratheon is number 12 in Pop! Game of Thrones. He is from the Game of Thrones franchise. 
Background
Edit
Renly serves Robert as Master of Laws on the King's small council in King's Landing. He is fourth in line to the throne, behind his nephews Joffrey and Tommen and his older brother Stannis. Renly is popular at court because of his friendly manner and keen fashion sense.[1]
The Game of Thrones Wave 2 Pop!s released in 2013. Cersei was released along with Jon Snow, Robb Stark, Arya Stark, Jaime Lannister, Cersei Lannister and Brienne of Tarth.
References 
Edit