Ramsay Bolton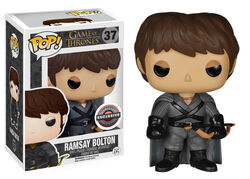 Ramsay Bolton is number 37 in Pop! Game of Thrones. He is from the Game of Thrones franchise. He is a GameStop exclusive.  
Background
Edit
Ramsay keeps a pack of dogs, which he employs for hunting. He is also in a relationship with the kennelmaster's daughter, Myranda, whom he supposedly planned to marry before his father ultimately had him legitimized.[1]
The Game of Thrones Wave 5 Pop!s released in 2015. Ramsay Bolton was released along with Oberyn Martell, The Mountain, Grey Worm, Wight, Viserion, Jaime Lannister and Iron Throne.
References 
Edit
Ad blocker interference detected!
Wikia is a free-to-use site that makes money from advertising. We have a modified experience for viewers using ad blockers

Wikia is not accessible if you've made further modifications. Remove the custom ad blocker rule(s) and the page will load as expected.