Queenie Goldstein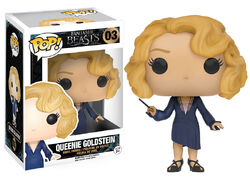 Information
| | |
| --- | --- |
| | Pop! Fantastic Beasts |
| Number in Line | 3 |
| Series | Fantastic Beasts & Where To Find Them |
| Year Released | September 2016 |

Queenie Goldstein is number 3 in Pop! Fantastic Beasts. She is from the Fantastic Beasts & Where To Find Them franchise.
Background
Edit
Queenie Goldstein is the younger sister of Tina and sister-in law of British wizard Newt. Like Tina, she was born somewhere in the United States. Both sisters were orphaned by the deaths of their parents at an early age, that they had to look after each other; by 1926, both sisters had a strong relationship and were already sharing an apartment in New York City. She also worked at the Magical Congress of the United States of America, working at a desk job that her older sister would had to work at after being demoted from being an Auror for standing up for a hapless individual the latter's superiors disapproved of. The two eventually meets Newt Scamander during his time in the city, whom will eventually marry Tina and move back to the United Kingdom with her after the events of Fantastic Beasts.
The first wave of Fantastic Beasts Pop!s were revealed on September 19, 2016 on the Funko Blog. The wave released on September 2016.
References
Edit
Ad blocker interference detected!
Wikia is a free-to-use site that makes money from advertising. We have a modified experience for viewers using ad blockers

Wikia is not accessible if you've made further modifications. Remove the custom ad blocker rule(s) and the page will load as expected.