Princess Bubblegum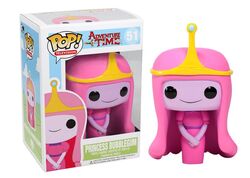 Princess Bubblegum is number 51 in Pop! Television. She is from the Adventure Time franchise.
Background
Edit
Princess Bubblegum is the ruler of the Candy Kingdom and friend of Finn and Jake, as well as the Ice King's centre of affections. She is also one of the most recurring princesses appeared in Adventure Time and a scientist.
Princess Bonnibel Bubblegum is implied to have formed in the years immediately following the Mushroom War, as a massive, blob-like creature made of pink gum which first appeared in "Simon & Marcy," having taken root in much of the took up the city. Back then, the future Princess Bubblegum served as an ally for the two survivors that mutated, providing them with cover and escape from the mutants that pursued them, and provided Simon with the soup he wanted for the young Marcy.
The Adventure Time Wave 2 Pop!s were released in 2013. Princess Bubblegum was released along with BMO, Lemongrab, Fionna, Cake, and Gunter.
References
Edit