Plex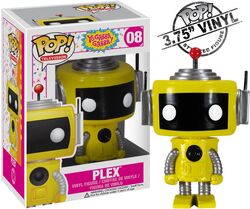 Plex is number 8 in Pop! Television. He is from the Yo Gabba Gabba! franchise.
Background
Edit
Plex is a male magic yellow robot and the oldest of the gabbas. He is portrayed as being smart and as the leader of Gabba Land. Plex usually teaches lessons to his friends and is a father figure to the gang. He can also use his special ray to bring things into existence. He plays the keytar. He has no realm in particular, though he seems to have a "docking station" between Foofa and Brobee's realms. In "Gabbaland Begins", Plex is the last in DJ Lance's original creations after he goes through Muno, Foofa, Brobee, and Toodee, although, Brobee is supposedly a four-year-old in the show.
Ad blocker interference detected!
Wikia is a free-to-use site that makes money from advertising. We have a modified experience for viewers using ad blockers

Wikia is not accessible if you've made further modifications. Remove the custom ad blocker rule(s) and the page will load as expected.