Pete (Kingdom Hearts)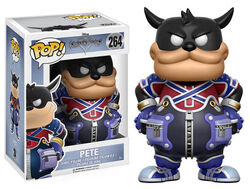 Kingdom Hearts Pete is the number 264 in Disney Pop! line, and it forms part of the Kingdom Hearts series. This figure is based on Pete's appearance on the Kingdom Hearts videogame series, where he acts as one of the principal antagonists of the story, being Maleficent's right hand and her Heartless army commander.
By December 2016, surged rumors pointing that a Kingdom Hearts themed Pop! collection was going to be released the following year.
Finally, in January 24th 2017, the collection was oficially announced at London Toy Fair, consisting in the characters, Mickey, Donald, Goofy and Pete. Days later, were announced by a filtrated image Chip and Dale figures, and two exclusive Donald and Goofy figures, that were later revealed as a Magician and Knight variants.
In this collection were notably absent Sora, the protagonist of the game, as well as the other Disney - Square Enix characters.
Variants
Edit
Black and White
Edit
Pete (Kingdom Hearts)

Black and White Pete is a B/W variant of the same figure. Based on Pete's appearance in Timeless River Kingdom Hearts' world. This figure is a Walmart exclusive.