Ninja Batty Shogun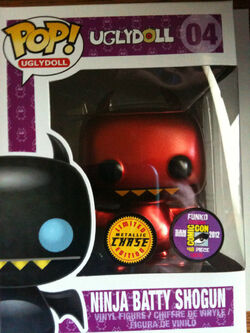 Information
| | |
| --- | --- |
| | Pop! Uglydoll |
| Number in Line | 04 |
| Series | Uglydoll |
| Year Released | 2012 |

Ninja Batty Shogun is number 4 in Pop! Uglydoll. He is from the Uglydoll franchise. This variant is a Red "Colorway" variant of Ninja Batty Shogun. It is also a "GITD" variant of Red "Colorway" Ninja Batty Shogun. It is a Chase variant. He is a SDCC 2012 exclusive.
Background
Edit
Ninja Batty Shogun always wondered why toys have nothing to do with to do with ninjas would add ninjas costumes to their toy lineup of characters. Batty thinks that's kinda "œmeh". Batty likes to fly around at night with his best friend, Ice-Bat. He does up the real dealio in an actual ninja costume. He doesn't use any red flames, stripes or other crazy decorations and even no spelling Ninja with a "œZ" at the end. He is very stealthy and does not like swords because they are sharp.
Red "Colorway GITD" Ninja Batty Shogun was released as a SDCC 2012 exclusive.
Ad blocker interference detected!
Wikia is a free-to-use site that makes money from advertising. We have a modified experience for viewers using ad blockers

Wikia is not accessible if you've made further modifications. Remove the custom ad blocker rule(s) and the page will load as expected.