Niffler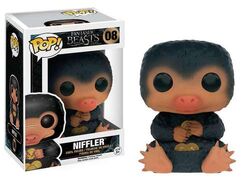 Information
| | |
| --- | --- |
| | Pop! Fantastic Beasts |
| Number in Line | 8 |
| Series | Fantastic Beasts & Where To Find Them |
| Year Released | September 2016 |

Niffler is number 8 in Pop! Fantastic Beasts. He is from the Fantastic Beasts & Where To Find Them franchise.  This "Flocked" version of Niffler is a Hot Topic exclusive.
Background
Edit
A Niffler is a creature with a long snout and a coat of black, fluffy fur. They are attracted to shiny things, which make them wonderful for locating treasure, but this also means that they could wreak havoc if kept (or set loose) indoors.
This version of the POP! is "Flocked". The POP! is made out of fuzzy fur.
The first wave of Fantastic Beasts Pop!s were revealed on September 19, 2016 on the Funko Blog. The wave released on September 2016. "Niffler" was planned on the post to be a Hot Topic exclusive.
References
Edit
Ad blocker interference detected!
Wikia is a free-to-use site that makes money from advertising. We have a modified experience for viewers using ad blockers

Wikia is not accessible if you've made further modifications. Remove the custom ad blocker rule(s) and the page will load as expected.