Newt Scamander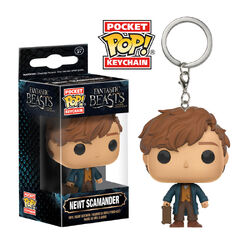 Information
| | |
| --- | --- |
| | Pocket Pop! |
| Series | Fantastic Beasts & Where To Find Them |
| Year Released | 2016 |

Newt Scamander is a Pocket Pop! Keychain. He is from the Fantastic Beasts & Where To Find Them franchise.
Background
Edit
Newt Scamander was a famed Magizoologist and author of Fantastic Beasts and Where to Find Them. Early in life, Scamander developed an interest in magical Creatures, influenced by his mother's breeding of hippogriffs. He attended Hogwarts School of Witchcraft and Wizardry, where he was Sorted into Hufflepuff House, and was later punished with expulsion, though the punishment was never actually enforced thanks to Albus Dumbledore protesting his innocence. Scamander joined the Ministry of Magic, spending two years in the Office for House-Elf Relocation before joining the Beast Division. In 1918, he was commissioned by Augustus Worme of Obscurus Books to write Fantastic Beasts and Where to Find Them. The book became a best-seller, making Scamander a respected expert in the field of Magizoology. He married Porpentina Goldstein , and they had at least one son[. By the beginning of the 1990s, he was retired and living in Dorset.
The Newt Scamander Pocket Pop! was revealed on September 19, 2016 on the Funko Blog. It was released in Fall 2016.
References
Edit
Ad blocker interference detected!
Wikia is a free-to-use site that makes money from advertising. We have a modified experience for viewers using ad blockers

Wikia is not accessible if you've made further modifications. Remove the custom ad blocker rule(s) and the page will load as expected.