Mysterion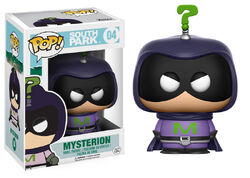 Mysterion is number 4 in Pop! South Park. He is from the South Park franchise.
Background
Edit
Mysterion is Kenny's superhero alter ego. He is a rival to Cartman's superhero identity, The Coon. He is based off of many comic book characters including, The Spirit, Immortal Men, Reconstruction Man, Batman, Rorschach, The Riddler, & Raven. He has the inability to not die as his superpower. In the episode, "The Coon", Mysterion revealed himself unmasked to the citizens of South Park but his identity wasn't revealed until "Mysterion Rises".
On December 13, 2016, the first wave of South Park Pop!s were announced with a release date of February 2017.
References
Edit