Mr. Meeseeks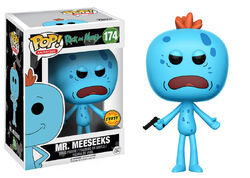 Information
| | |
| --- | --- |
| | Pop! Animation |
| Number in Line | 174 |
| Series | Rick and Morty |
| Year Released | 2017 |

Mr. Meeseeks is number 174 in Pop! Animation. He is from the Rick and Morty franchise. This variant of the Pop! is a Chase variant to Mr. Meeseeks.
Background
Edit
Mr. Meeseeks is a race of humanoid creatures who share the same name and personality. They are created by a Meeseeks box, and disappear after completing a single task. Meeseeks have the talent to complete complex tasks and them existing is painful to them. They attempt to complete a person's task as quick as possible to disappear. If they go long without completing it, they will start to become insane and murderous while going to insane lengths to complete the task.
This Pop! is a reference to when the Meeseeks start to become crazy and violent. This variant has a angry face with dark blue spots all lover it's body and carries a gun.
The Funko blog announced the second Rick and Morty Pop!s on February 14, 2017. The second wave released in April 2017.
References
Edit
Ad blocker interference detected!
Wikia is a free-to-use site that makes money from advertising. We have a modified experience for viewers using ad blockers

Wikia is not accessible if you've made further modifications. Remove the custom ad blocker rule(s) and the page will load as expected.