Morty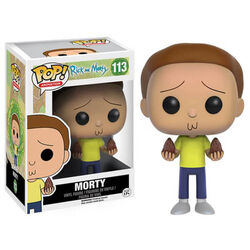 Information
| | |
| --- | --- |
| | Pop! Animation |
| Number in Line | 113 |
| Series | Rick and Morty |
| Year Released | 2016 |

Morty is number 113 in Pop! Animation. He is from the Rick and Morty franchise.
Background
Edit
Morty Smith is Rick's kind hearted and distressed grandson who is dragged by Rick on his misadventures. His naïve behavior plays counterpart to Rick's Machiavellian ego. He follows Rick's plans but often traumatizes about the methods Rick uses to "fix" situations.
The Funko blog announced the first Rick and Morty Pop!s on May 19, 2016. The first wave released in July 2016.
References
Edit
He is loosely based on Marty McFly from Back to the Future as the pilot episode of Rick and Morty was a Back to the Future parody.
Ad blocker interference detected!
Wikia is a free-to-use site that makes money from advertising. We have a modified experience for viewers using ad blockers

Wikia is not accessible if you've made further modifications. Remove the custom ad blocker rule(s) and the page will load as expected.