Misty Day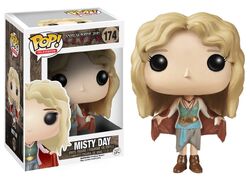 Information
| | |
| --- | --- |
| | Pop! Television |
| Number in Line | 174 |
| Series | American Horror Story |
| Year Released | 2014 |
Misty Day is number 174 in Pop! Television. She is from the American Horror Story franchise.
Background
Edit
An earthy young woman from a backwoods Pentecostal community in the bayous of Louisiana, Misty Day was misunderstood due to her ability to bring souls back from the dead (i.e. the power of resurgence). Although some saw her gift as a blessing from God, others in the community saw her as a necromancer and a threat to the community. Since her resurrection from being burned at the stake, Misty spends her days wandering the swamps and listening to Stevie Nicks, insisting that the lead singer from Fleetwood Mac is a witch, which she interprets through the lyrics.[1]
The American Horror Story Wave 1 Pop!s was released in 2014. Misty Day was released along Tate Langdon, Rubber Man, Fiona Goode, Cordelia Foxx, Marie Laveau, Myrtle Snow, and Papa Legbra.
References
Edit
Ad blocker interference detected!
Wikia is a free-to-use site that makes money from advertising. We have a modified experience for viewers using ad blockers

Wikia is not accessible if you've made further modifications. Remove the custom ad blocker rule(s) and the page will load as expected.