Max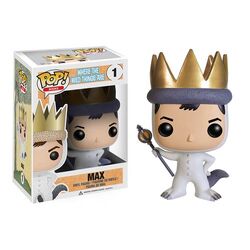 Information
| | |
| --- | --- |
| | Pop! Books |
| Number in Line | 1 |
| Series | Where the Wild Things Are |
| Year Released | 2014 |

Max is number 1 in Pop! Books. He is from the Where the Wild Things Are franchise.
Background
Edit
Max is a young boy who wears a wold costume. He wrecks havoc in his house where he lives and is sent to bed without any supper. After Max's bedroom turns into a jungle, he uses a boat to sail to a mysterious island where beasts known as the "Wild Things" live. He acts like the creatures causing them to think that Max is their king. After he feels lonely, he returns back home leaving the Wild Things behind. When returning to his bedroom, Max discovers that supper is waiting for him.
The Where the Wild Things Are Pop!s were released in 2014. Max as released along with Carol.
Ad blocker interference detected!
Wikia is a free-to-use site that makes money from advertising. We have a modified experience for viewers using ad blockers

Wikia is not accessible if you've made further modifications. Remove the custom ad blocker rule(s) and the page will load as expected.