Lucius Malfoy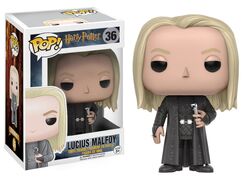 Lucius Malfoy is number 36 in Pop! Harry Potter. He is from the Harry Potter franchise.
Background
Edit
Lucius Malfoy was a pure-blood wizard, husband of Narcissa Black and the father of Draco Malfoy. Lucius was educated at Hogwarts, where he was made a prefect in Slytherin House. As an adult, Lucius was an aristocratic wizard and patriarch of the Malfoy family, believing strongly in notions of blood purity and the superiority of pure-blood wizards. He joined the Death Eaters, who shared his views on blood purity, and participated in the First Wizarding War.[1]
The Harry Potter Wave 3 Pop!s was released in 2016. Lucius Malfoy was released along with Harry Potter (with Prophesy), Fred Weasley, George Weasley, Bellatrix Lestrange, Minerva McGonagall, Mad-Eye Moody and Dolores Umbridge.
Refrences 
Edit