Joffrey Baratheon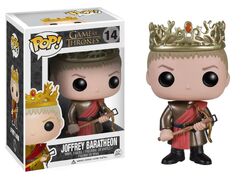 Joffrey Baratheon is number 14 in Pop! Game of Thrones. He is from the Game of Thrones franchise. 
Background
Edit
Joffrey is believed to be the oldest son and heir of King Robert Baratheon and Queen Cersei Lannister, both of whom entered into a political marriage alliance after Robert took the throne by force from the Mad King Aerys II Targaryen. In reality, his father is Jaime Lannister, the queen's brother and the Lord Commander of the Kingsguard.[1]
The Game of Thrones Wave 3 Pop!s released in 2014. Joffrey Baratheon was released along with Hodor, Drogon, Tywin Lannister, Ygritte, Ghost, Rhaegal, Tyrion Lannister, Viserion, Grey Wind and Daenerys Targaryen.
References 
Edit