Jason Voorhees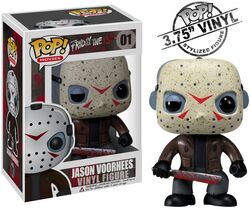 Information
| | |
| --- | --- |
| | Pop! Movies |
| Number in Line | 1 |
| Series | Friday The 13th |
| Year Released | 2011 |

Jason Voorhees is number 1 in Pop! Movies. He is from the Friday The 13th franchise.
Background
Edit
Jason Voorhees is the son of murder, Palema Voorhees who likes to murder people in camps. He is the villain of the Friday The 13th films. He stalks and kills characters and acts as a threat to the main characters.
Jason Voorhees was released as a Pop! in 2011.