Jake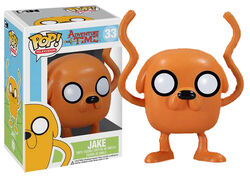 Jake is number 33 in Pop! Television. He is from the Adventure Time franchise.
Background
Edit
Jake or known as Jake the Dog goes on adventures throughout the land of Ooo with his adopted brother, Finn. Jake has the ability to stretch and shapeshift his body limbs into a immense length he gained. He can grow into a giant and shrink for example. He is married to Lady Rainicorn and has serval kids with her.
The Adventure Time Pop!s are labeled as Pop! Television because Pop! Animation didn't start until 2014. Back then, animated shows were classified as television and put in the Television category.
On the front of the box, the art for Jake is different to the art on the sides. Jake's arms are not in the air so they will not cover the box.