Horton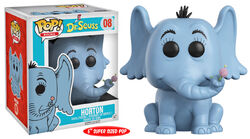 Information
| | |
| --- | --- |
| | Pop! Books |
| Number in Line | 8 |
| Series | Dr. Seuss |
| Year Released | 2017 |

Horton is number 8 in Pop! Books. He is from the Dr. Seuss franchise. He is a 6" Inch Pop!.
Background
Edit
In the book, Horton Hears A Who, Horton hears a speck of dust talking to him. It is revealed that a person lives on that speck and on that speck lives Whoville, where very microscopic creatures live. The Mayor of Whoville asks Horton to protect them from harm. However, the Animals criticize him for hearing them because they are microscopic. A mean kangaroo steal the speck and tries to burn it in a pot with a bunch of monkeys. Everyone in Whoville plays shouts, sings, and play instruments so everyone can hear them but there is no luck. Until one speck, Jojo, lets out a very loud shout which the kangaroo and monkeys can hear the people on the speck. Horton helped The Who's prove their existence to the animals.
The Dr. Seuss Pop!s were revealed on the Funko Blog on January 25, 2017. They released on the same day as it was revealed.
References
Edit
Ad blocker interference detected!
Wikia is a free-to-use site that makes money from advertising. We have a modified experience for viewers using ad blockers

Wikia is not accessible if you've made further modifications. Remove the custom ad blocker rule(s) and the page will load as expected.