Homer Simpson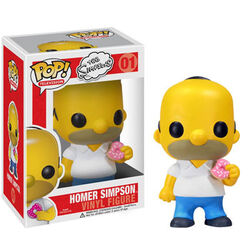 Homer Simpson is number 1 in Pop! Television. He is from The Simpsons franchise.
Background
Edit
Homer Jay Simpson and his wife Marge have three children: Bart, Lisa, and Maggie. As the family's provider, he works at the Springfield Nuclear Power Plant, where his boss is Mr. Burns. He is crude, bald, overweight, incompetent, clumsy, lazy, a low attention spane, a heavy drinker, and ignorant; however, he is essentially a decent man and fiercely devoted to his family. He dislikes his neighbor Ned Flanders and "borrows" a great deal of Ned's property, however Homer and Ned's relationship has been good on occasions, in which Homer seems to genuinely care for Ned as in one episode he calls him his best friend. Despite the suburban blue-collar routine of his life, he has had a number of remarkable experiences.
Ad blocker interference detected!
Wikia is a free-to-use site that makes money from advertising. We have a modified experience for viewers using ad blockers

Wikia is not accessible if you've made further modifications. Remove the custom ad blocker rule(s) and the page will load as expected.