Gudetama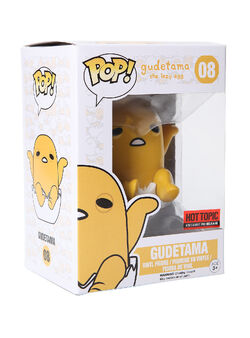 Information
| | |
| --- | --- |
| | Pop! Sanrio |
| Number in Line | 08 |
| Series | Gudetama The Lazy Egg |
| Year Released | 2016 |

Gudetama is number 8 in Pop! Sanrio. He is from the Gudetama The Lazy Egg franchise.
Background
Edit
Gudetama is a character created by Sanrio. He is an egg lacking in "spunk". His name is a play on "gude gude"; used to describe someone with no energy or strength and possibly tama from tamago (egg).He is sometimes seen with a man in an orange/yellow costume that fully covers the body.
Gudetama as a Pop! along with Gudetama with Bacon and Gudetama (Hot Topic) in November 2016.
Ad blocker interference detected!
Wikia is a free-to-use site that makes money from advertising. We have a modified experience for viewers using ad blockers

Wikia is not accessible if you've made further modifications. Remove the custom ad blocker rule(s) and the page will load as expected.