Grey Wind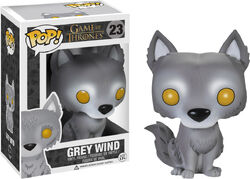 Grey Wind is number 23 in Pop! Game of Thrones. He is from the Game of Thrones franchise and a 7-Eleven exclusive. 
Background
Edit
The Game of Thrones Wave 3 Pop!s released in 2014. Grey Wind was released along with Joffrey Baratheon, Hodor, Drogon, Tywin Lannister, Ygritte, Ghost, Rhaegal, Tyrion Lannister, Viserion and Daenerys Targaryen.
References 
Edit
Ad blocker interference detected!
Wikia is a free-to-use site that makes money from advertising. We have a modified experience for viewers using ad blockers

Wikia is not accessible if you've made further modifications. Remove the custom ad blocker rule(s) and the page will load as expected.