GIR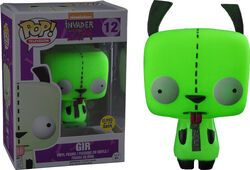 GIR is number 12 in Pop! Television. He is from the Invader Zim franchise. This variant of GIR is a Hot Topic exclusive.
Background
Edit
GIR is the insane, hyperactive robotic assistant of Zim and the closest thing the incompetent Irken has to a friend, having been constructed from scrap parts and given to Zim by the Almighty Tallest just before it was handed to Zim, instead of a regular SIR.[1]
"GITD" GIR was released as a Hot Topic exclusive in 2015.
References
Edit
Ad blocker interference detected!
Wikia is a free-to-use site that makes money from advertising. We have a modified experience for viewers using ad blockers

Wikia is not accessible if you've made further modifications. Remove the custom ad blocker rule(s) and the page will load as expected.