Finn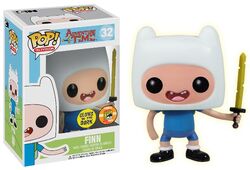 Finn is number 32 in Pop! Television. He is from the Adventure Time franchise. This is a "GITD" variant of Finn. He is a SDCC 2013 exclusive.
Background
Edit
Finn or known as Finn the Human was raised by Jake's parents Joshua and Margret after his parents abandoned him and put him on a boom-boom leaf. Since then, Finn and Jake shared a close bond and considered each other, brothers. Years later, they live with each other in their own treehouse.
The Adventure Time Pop!s are labeled as Pop! Television because Pop! Animation didn't start until 2014. Back then, animated shows were classified as television and put in the Television category.