Disco Zombie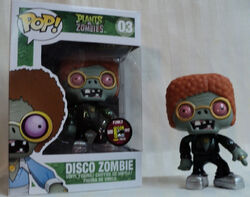 Information
| | |
| --- | --- |
| | Pop! Games |
| Number in Line | 3 |
| Series | Plants vs. Zombies |
| Year Released | 2012 |

Disco Zombie is number 3 in Pop! Games. He is from the Plants vs. Zombies franchise. This variant is a "Metallic" variant of Disco Zombie. It is a SDCC 2012 exclusive.
Background
Edit
A Disco Zombie (or Dancing Zombie) is a zombie that dances on the lawn and summons Backup Dancer Zombies. He wears a 70's outfit and is based on Disco Stu from The Simpsons. His newest album, "GrarrBRAINSarblarbl," is already skyrocketing on the undead music charts.
"Metallic" Disco Zombie was released as a SDCC 2012 exclusive at the Funko booth.
Ad blocker interference detected!
Wikia is a free-to-use site that makes money from advertising. We have a modified experience for viewers using ad blockers

Wikia is not accessible if you've made further modifications. Remove the custom ad blocker rule(s) and the page will load as expected.