Cthulhu (GITD)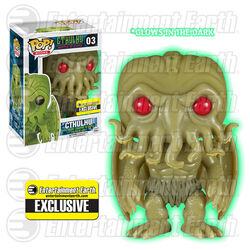 Information
| | |
| --- | --- |
| | Pop! Books |
| Number in Line | 3 |
| Series | Cthulhu: Master Of R'lyeh |
| Year Released | 2015 |

Cthulhu is number 3 in Pop! Games. He is from the Cthulhu: Master Of R'lyeh franchise. This variant is a "GITD" variant of Cthulhu. It is a Entertainment Earth exclusive.
Background
Edit
Cthulhu is a fictional monster created by author, H.P. Lovecraft. The monster debuted in the short story, "The Call of Cthulhu" where a cult worships it and waits for its return to Earth. Police Officer Johnathan summons him resulting in his group's deaths. Cthulhu catches them and but explodes after Johnathan rams it with a yacht. The remaining of the group become insane and quickly die.
"GITD" Cthulhu was released on the Entertainment Earth website in 2015.
Unlike Cthulhu, it has red eyes instead of black eyes.