Conehead Zombie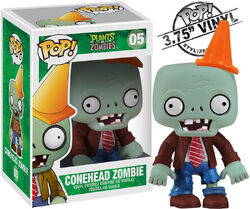 Information
| | |
| --- | --- |
| | Pop! Games |
| Number in Line | 5 |
| Series | Plants vs. Zombies |
| Year Released | 2012 |

Conehead Zombie is number 5 in Pop! Games. He is from the Plants vs. Zombies franchise.
Background
Edit
A Conehead Zombie are zombies that wear roadcones for protection. They have more health than regular zombies as Conehead zombies don't heal damage until their cone is knocked off. He also loves to party.
Ad blocker interference detected!
Wikia is a free-to-use site that makes money from advertising. We have a modified experience for viewers using ad blockers

Wikia is not accessible if you've made further modifications. Remove the custom ad blocker rule(s) and the page will load as expected.