Clyde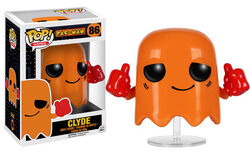 Information
| | |
| --- | --- |
| | Pop! Games |
| Number in Line | 86 |
| Series | PAC-MAN |
| Year Released | 2016 |

Clyde is number 86 in Pop! Games. He is from the PAC-MAN franchise.
Background
Edit
Clyde (Japanese: クライド Clyde) is one of the four main ghosts in the Pac-Man series. Of the other 3 ghosts, Inky is shown to be his closest friend. While the other three ghosts are off chasing Pac-Man, Clyde will be off doing his own thing. He is typically portrayed as the least intelligent and most submissive ghost. While originally the main antagonist alongside Blinky, Pinky, and Inky in the first Pac-Man arcade game, their role has largely been diminished to secondary antagonists or allies in recent incarnations.
PAC-MAN Pop!s were announced on the Funko blog on Januray 26, 2016. They released in March 2016.
References
Edit
Ad blocker interference detected!
Wikia is a free-to-use site that makes money from advertising. We have a modified experience for viewers using ad blockers

Wikia is not accessible if you've made further modifications. Remove the custom ad blocker rule(s) and the page will load as expected.