Cartman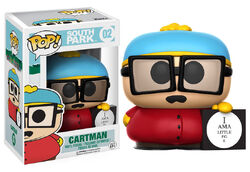 Cartman is number 2 in Pop! South Park. He is from the South Park franchise.
Background
Edit
Cartman is one of the four main characters of the show with Stan, Kyle, & Kenny. He is a student at South Park Elementary who lives with his mother. He is aggressive, prejudiced, and arrogant. He is depicted to be highly intelligent as he is able to execute successful building ideas, and plans. His behavior is very psychopathic in the show. He is the show's most famous character.
The glasses and the "I Am A Little Piggie" eyechart is a reference to the episode "The Succubus" where Cartman has to try on a huge pair of glasses at the eye doctor.
On December 13, 2016, the first wave of South Park Pop!s were announced with a release date of February 2017.
References
Edit
Ad blocker interference detected!
Wikia is a free-to-use site that makes money from advertising. We have a modified experience for viewers using ad blockers

Wikia is not accessible if you've made further modifications. Remove the custom ad blocker rule(s) and the page will load as expected.