Butterhorn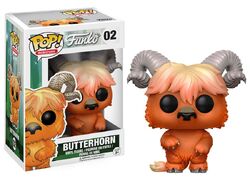 Information
| | |
| --- | --- |
| | Pop! Monsters |
| Number in Line | 2 |
| Series | Pop! Monsters |
| Year Released | 2017 |

Butterhorn is number 2 in Pop! Monsters. She is from the Pop! Monsters franchise.
Background
Edit
Butterhorn's many wonderful tales are told to the monsters of Wetmore forest as the light fades among the Pines and fauna, and the littlest ones start to yawn. She is the storyteller of the group, charged with sharing the legends and stories of past and present. She is wise and gifted in the ways of nature. She speaks the ancient language of the fir trees and knows each and every creature roaming the vast rainforest by name.
Butterhorn was released in the Funko-Shop on July 12, 2017.
Her concept design Pop! has a mouth. Her final product design doesn't.
References
Edit
Ad blocker interference detected!
Wikia is a free-to-use site that makes money from advertising. We have a modified experience for viewers using ad blockers

Wikia is not accessible if you've made further modifications. Remove the custom ad blocker rule(s) and the page will load as expected.