Bugcat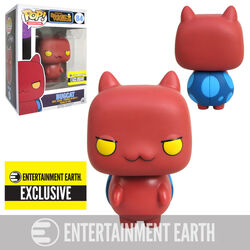 Information
| | |
| --- | --- |
| | Pop! Animation |
| Number in Line | 84 |
| Series | Bravest Warriors |
| Year Released | 2016 |

Bugcat is number 84 in Pop! Animation. He is from the Bravest Warriors franchise. He is a Entertainment Earth exclusive.
Background
Edit
Catbug is a creature who is half cat and half ladybug. He has a very childish personality and exists in two dimensions, the "normal" dimension and the See-Through Zone, a place where the Courageous Battlers where imprisoned. He is the show's breakout character.
His alternate universe twin,Bugcat is evil and is very strict. He likes to cause mischief around and hates Catbug. He is from the Bravest warriors comic book series.
Bugcat was released on the Entertainment Earth website in 2016.
Ad blocker interference detected!
Wikia is a free-to-use site that makes money from advertising. We have a modified experience for viewers using ad blockers

Wikia is not accessible if you've made further modifications. Remove the custom ad blocker rule(s) and the page will load as expected.