Brienne of Tarth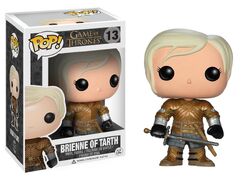 Brienne is number 13 in Pop! Game of Thrones. She is from the Game of Thrones franchise. 
Background
Edit
Brienne is the sole surviving child and heir of Lord Selwyn Tarth of Evenfall Hall, on the island of Tarth, located in the Narrow Sea off the coast of the Stormlands. She is unusually tall and muscular for a woman by Westerosi standards and developed a taste for martial activity as a child. Brienne has grown up to become skilled at arms and dreams of becoming a knight.[1]
The Game of Thrones Wave 2 Pop!s released in 2013. Cersei was released along with Jon Snow, Robb Stark, Arya Stark, Jaime Lannister, Cersei Lannister and Renly Baratheon.
References 
Edit
Ad blocker interference detected!
Wikia is a free-to-use site that makes money from advertising. We have a modified experience for viewers using ad blockers

Wikia is not accessible if you've made further modifications. Remove the custom ad blocker rule(s) and the page will load as expected.