Blushing BMO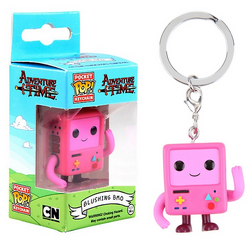 Blushing BMO is a Pocket Pop! Keychain. He is from the Adventure Time franchise. He is a Hot Topic exclusive.
Background
Edit
'BMO (or known as Beemo) is a video game console robot who is Finn and Jake's roommate and friend. He is used for playing video games, videos, tapes, and music. He also knows how to cook. He loves playing soccer, skateboarding, and editing videos. BMO is genderless even though character use "he" or even once, "m'lady" to describe him. He is used as a portable electrical outlet, camera, alarm clock, toaster, flashlight, and strobe light.
The Blushing BMO Pocket Pop! was released as Hot Topic exclusive in 2016.