Blinky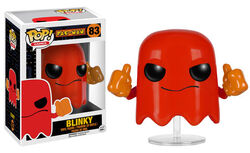 Information
| | |
| --- | --- |
| | Pop! Games |
| Number in Line | 83 |
| Series | PAC-MAN |
| Year Released | 2016 |

Blinky is number 83 in Pop! Games. He is from the PAC-MAN franchise.
Background
Edit
Blinky (Japanese: ブリンキー Blinky) is the leader of the ghosts and the arch-enemy of Pac-Man. He chases Pac-Man constantly, and is hard to shake once he starts. He is known to have a short temper, and is good friends with Inky, Pinky and Clyde. While originally the main antagonist in the first Pac-Man arcade game, his role has largely been diminished to secondary antagonist or an ally in recent incarnations, though he is still considered the series de-facto main antagonist in remakes of the first game and by older fans.
PAC-MAN Pop!s were announced on the Funko blog on Januray 26, 2016. They released in March 2016.
References
Edit
Ad blocker interference detected!
Wikia is a free-to-use site that makes money from advertising. We have a modified experience for viewers using ad blockers

Wikia is not accessible if you've made further modifications. Remove the custom ad blocker rule(s) and the page will load as expected.