Birdperson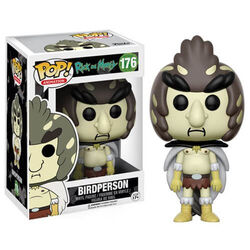 Information
| | |
| --- | --- |
| | Pop! Animation |
| Number in Line | 176 |
| Series | Rick and Morty |
| Year Released | 2017 |

Birdperson is number 176 in Pop! Animation. He is from the Rick and Morty franchise.
Background
Edit
Birdperson is a Rick's best friend. He has a deep respect for Rick and offers Morty insight when Morty considers king something that would ruin his and Rick's friendship. At one point, he was in a band with Rick and Squanchy as freedom fighters against the Galactic Federation. In the episode, "Wedding Squanchers", Birdperson marries his girlfriend, Tammy but is killed after she reveals that she is a undercover agent for the Galactic Federation sent to capture Rick and his friends. Birdperson is now turned into a cyborg, Phoenix Person by the Federation.
The Funko blog announced the second Rick and Morty Pop!s on February 14, 2017. The second wave released in April 2017.
References
Edit
Ad blocker interference detected!
Wikia is a free-to-use site that makes money from advertising. We have a modified experience for viewers using ad blockers

Wikia is not accessible if you've made further modifications. Remove the custom ad blocker rule(s) and the page will load as expected.