Bicycle Girl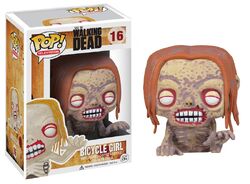 Information
| | |
| --- | --- |
| | Pop! Television |
| Number in Line | 16 |
| Series | The Walking Dead |
| Year Released | 2012 |

Bicycle Girl is number 16 in Pop! Television. She is from The Walking Dead franchise.
Background
Edit
Bicycle Girl (Also known as Hannah before she was zombified). She is in her mid to late 30's. Her family is her ex-husband, Andrew which is now deceased. Her two children are Jamie and Billy. She was eaten by zombies and was shot by Rick Grimes. She is the first walker that Rick encounters in the show.
The Walking Dead Wave 1 Pop!s were announced on August 23, 2012. They released in December 2012. RV Walker was released with Rick Grimes, Daryl Dixon, and RV Walker.
References
Edit
Ad blocker interference detected!
Wikia is a free-to-use site that makes money from advertising. We have a modified experience for viewers using ad blockers

Wikia is not accessible if you've made further modifications. Remove the custom ad blocker rule(s) and the page will load as expected.