Bellatrix Lestrange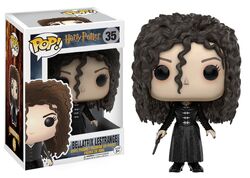 Bellatrix Lestrange is number 35 in Pop! Harry Potter. She is from the Harry Potter franchise.
Background
Edit
Bellatrix Lestrange was a pure-blood witch, the eldest daughter of Cygnus Black III and Druella Black and elder sister of Andromeda Tonks and Narcissa Malfoy. She was a member of the House of Black, an old wizarding family and one of the Sacred Twenty-Eight. Bellatrix started her education at Hogwarts School of Witchcraft and Wizardry in 1962 and was Sorted into Slytherin House.[1]
The Harry Potter Wave 3 Pop!s was released in October 2016. Bellatrix Lestrange was released along with Harry Potter (with Prophesy), Fred Weasley, George Weasley, Lucius Malfoy, Minerva McGonagall, Mad-Eye Moody and Dolores Umbridge.
Refrences 
Edit