''The One That Started It All''
Batman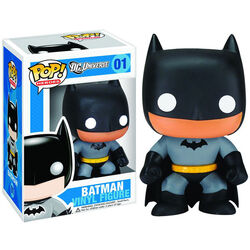 Batman is number 1 in Pop! Heroes. He is from the DC Universe franchise. He is the first Pop in the Funko Pop Cannon
Background
Edit
When a young Bruce Wayne witnessed his socialite parents shot dead by the mugger, Joe Chill, he vowed to bring justice to the criminals infesting Gotham City. He then trained himself in detective skills, sciences, engineering, escape artistry, martial arts, and criminal psychology. But Bruce realized that those skills would not be enough to stop the superstitious and cowardly lot plaguing the streets. While he was in his study reflecting on his parents' deaths, a bat flew into the window, both startling and inspiring him at the same time. He would become the bat to strike fear in those who preyed upon the innocent. And so, Bruce then took his mantle as a crime fighter and became known as Batman. Over the years, Batman has made many enemies such as The Joker, Penguin, Two-Face, Bane, among many others. Batman also has many allies as well, such as his Butler and former Guardian, Alfred Pennyworth, Police Commissioner Jim Gordon, Robin, Batgirl and a member of the Justice League.
Batman along with Green Lantern were the first Pop!s made. They were released at SDCC as Funko Force 2.0. They were rebranded as Pop! later on.
Batman has the most variants than any other Pop! character in every line.