Barney Rubble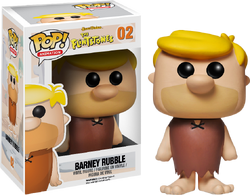 Information
| | |
| --- | --- |
| | Pop! Animation |
| Number in Line | 2 |
| Series | The Flintstones |
| Year Released | 2014 |

Barney Rubble is number 4 in Pop! Animation. He is from The Flintstones franchise.
Background
Edit
Fred Flintstone is the husband of Wilma and father of Pebbles. His next-door neighbor, Barney Rubble is also his best friend. He lives in Bedrock, a prehistoric town where dinosaurs and cavemen existed at the same time and have punitive versions of modern convinces. Fred's catchphrase is "YABBA DABBA DO!" He works at the quarry as a crane operator. He is sometimes stubborn and short-tempered. He likes to going into the pool, playing poker, bowling, or golf and to long the around the house.
Ad blocker interference detected!
Wikia is a free-to-use site that makes money from advertising. We have a modified experience for viewers using ad blockers

Wikia is not accessible if you've made further modifications. Remove the custom ad blocker rule(s) and the page will load as expected.