Arya Stark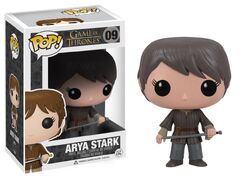 Arya Stark is number 9 in Pop! Game of Thrones. She is from the Game of Thrones franchise. 
Background
Edit
Arya was born and raised at Winterfell. She has an older sister, Sansa Stark. She also has an older brother, Robb, two younger brothers, Bran and Rickon and a bastard half-brother, Jon Snow.[1]
The Game of Thrones Wave 2 Pop!s released in 2013. Robb Stark was released along with Jon Snow, Robb Stark, Jamie Lannister, Cersei Lannister, Renly Baratheon and Brienne of Tarth.
References 
Edit